Beautiful Single Property web Sites
We provide stunning Single Property Websites to showcase your listings. Our Single Property Websites are a hassle free, low cost and high value marketing solution for your listings. Your sellers will be impressed! Potential buyers will have access to all the home's information and be able to view full page photos. They will fall in love with your listing before they even step foot in it! We handle all the initial setup of your listing's Single Property Website and then you will have full control of it! You will be able to login to your account and make changes 24/7!
Our Single Property Websites can help you get more listings!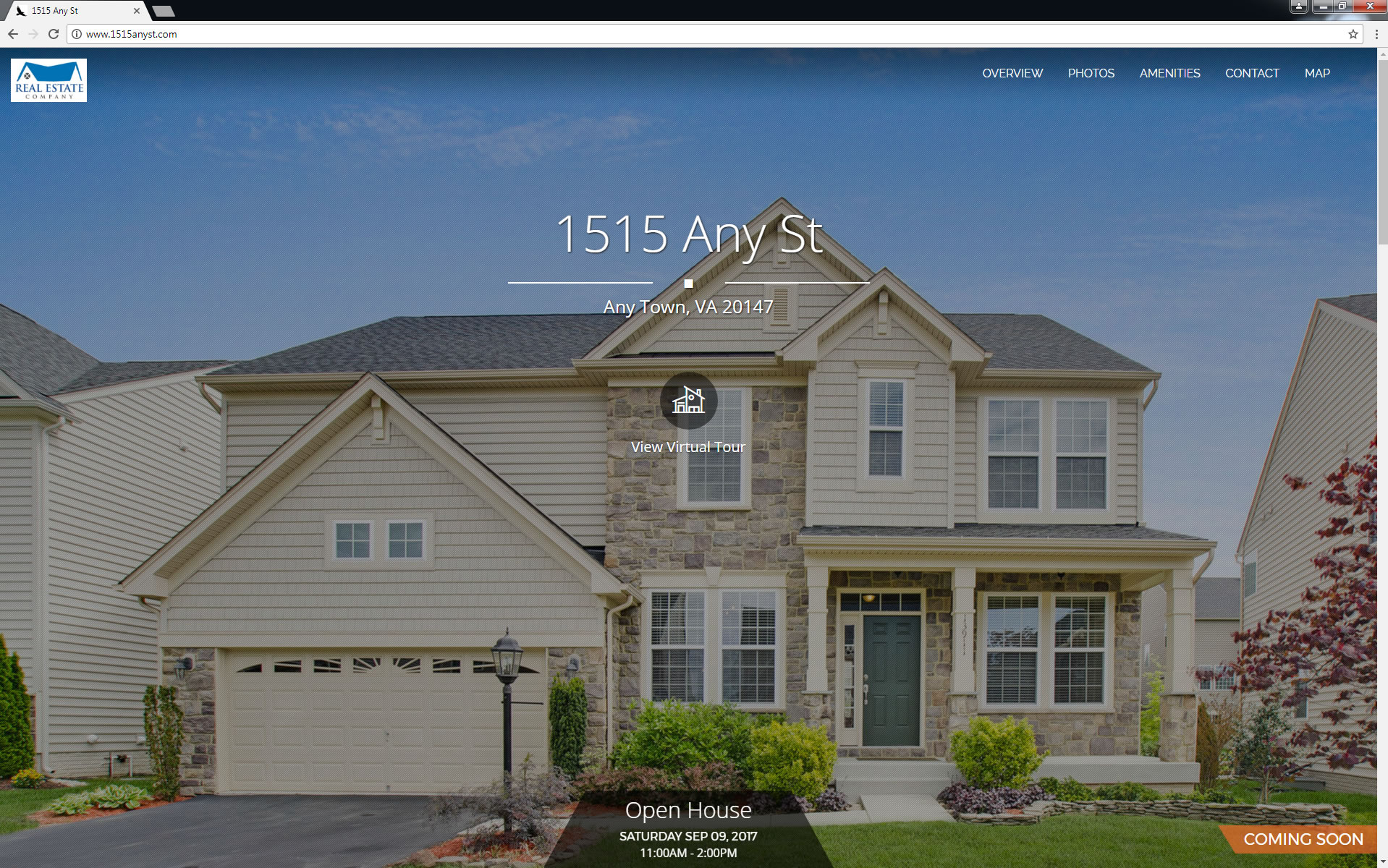 Bring more buyer leads with our Single Property Websites!
Our Single Property Websites are custom branded and have SEO built in!
Feature Unlimited Photos
Show off your listing with unlimited photos and Videos! Plus you have full control of what buyers see. You can rearrange, remove and add photos at any time!
Upload documents
Need to upload Plats, disclosures or any other supporting documents? No problem! You can quickly and easily upload everything you need with just a few clicks via your control panel.
Fully Responsive Sites
Our Single Property Websites are fully responsive and will look amazing on ANY device!
Includes 1 Year of web hosting
Our Single Property Websites include one year of web hosting. If your listing sells quickly, just label it as SOLD and use the site as a demo in your listing presentation. Seller's love our Single Property Websites!
No monthly charges or subscriptions. Just a one time payment!
Flyers Included
Our Single Property Websites includes customizable flyers you can quickly set up and download to print out. As well as having them available on the Single Property Website for potential buyers to download and print out as well!
Control Panel
You are in full control! You can manage all of your listings Single Property Websites from your control panel. Making changes is quick and easy! You can rearrange, add and remove photos. Updating the listing's description, amenities, contact information is quick and simple!
Custom Domain
This feature truly enhances your Single Property Website. We'll create a URL such as: www.43263parkersridgedr.info or you can provide us with a name you would like to use. Domains are registered for one year and can be renewed if needed. Custom domains are included with all Single Property Websites.
Lead Capture
Our built-in CRM lets you easily track and manage leads generated by the Single Property Website. The more you share the link to your site. The more leads you could get!
Social Media Optimized
Easy to click and share your Single Property Website on Facebook, Twitter and Linkedin - for you and your seller.
ADVANCED ANALYTICS
Track page views, visitor counts, social referrals and more with our Advanced Analytics tool. You can also email reports to your sellers manually or setup automated reports for them. Reports can be sent out daily, weekly, bi-weekly, monthly or yearly! Sellers love being kept up to date and our Single Property Website's control panel makes it easy.
Use Your Photos or Ours
Already have photos? No problem! Once your site is set up you can quickly and easily upload your photos via your Single Property Website's control panel. We highly recommend professional photos. We offer a free Single Property Website with our high quality, HDR Real Estate Photography and 3D Matterport Showcase Tours!
Several Gorgeous Templates To Choose From!
We have 11 beautiful templates to choose from. You'll have full control and can change the template at anytime without having to to edit any of the information or photos!
Order your Single Property Site today!
All this for only $50! Site and domain name will be registered for one year. (Please note that if you register the domain yourself we will not be able to configure the DNS settings for you.)
Your Single Property Website will be live within 48 hours. You will receive an email with login instructions for your control panel.